The Health and Life Insurance model is changing - market players need to innovate their management mechanisms to respond to an increasingly competitive environment.
Customer expectations, in an increasingly digital economy, are very high and include a level of "immediacy" that requires new responses. In this sense, we have aligned our core skills - medicine, risk management, information technology and distribution of financial services - to create value, innovate and generate competitiveness.
Future Healthcare, in the course of its Insurance and Health Management Systems activity, has developed a technological and services platform - FHNET - which enables the involvement of all stakeholders - Insurance Companies, Medical Service Providers and Clients - in a single aggregated technological environment, designed to respond to all the needs inherent to the management of an Insurance or Health System or Life Insurance. Future Healthcare's technological platform is a cloud-based, Internet-based, Multidevice application that can be fully adapted to the business model, image, processes and rules of our Corporate Clients.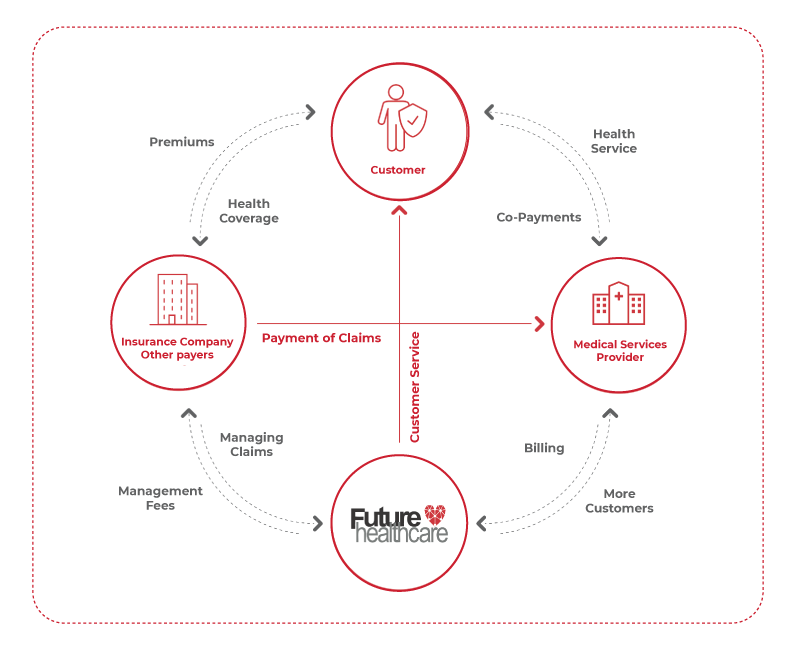 Through its technological platform, Future Healthcare seeks to develop "customized" solutions for its Corporate Clients in order to achieve three major objectives
To provide all customers with an excellent experience in all interactions with the Insurance Company or Health System, meeting the current needs and expectations required by "digital consumers";
Improve the Company's technical results by optimising its processes for controlling health expenditure costs, namely by reducing abuses, preventing fraud, implementing audits and carrying out better risk management;
Reduce administrative costs in the Healthcare business, through a fully integrated platform with the Insurance Company's core systems or Healthcare Systems, enabling a high level of automation of your operational processes, being able to scale your business without having to increase costs in the same proportion.
Main FHNET Modules:
Insurance Companies
Use management
Authorisations
Refunds
Invoice validation
Cost Containment rules
Medical network management
Individual health registration
Medical Underwriting
Reporting
Configuration module
Providers
Providers website
Beneficiary Validation and Online authorisation
Requests for Medical authorisation
Current Account checking
Clients
Mechanisms of interaction with the Beneficiary
Physical and virtual card
Online clinical directory
Clients area
Beneficiary Helplines
All possible services to be incorporated into Future Healthcare's technological platform can be presented as a Software as a Service (SaaS) or Third Party Administrator (TPA) model.